How Successful Firms Put Diversity in Action
A new report from the CFP Board Center for Financial Planning provides case studies on the sustainability of diversity, equity and inclusion (DEI) programs at successful firms.
The CFP Board Center for Financial Planning recently hosted its third annual Diversity Summit in a virtual format over the course of three days. On the Summit's opening day, the Center released a new thought leadership paper, Diversity in Action: How to Sustain the Financial Planning Profession.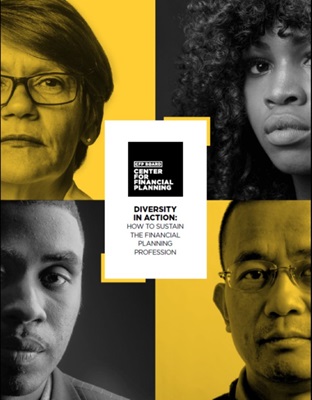 This new publication provides insightful case studies that illustrate the sustainability of diversity, equity and inclusion (DEI) programs through metric-driven accountability. Each case study illustrates how a successful firm — ranging from independent RIAs to broker-dealers and banks — has achieved successes in increasing DEI. The six firms featured in the report include Northwestern Mutual, HoyleCohen Wealth Management, Merrill Lynch Wealth Management, Wetherby Asset Management, Fidelity Investments and Charles Schwab & Co., Inc.
These real-life examples of successful DEI programs exemplify best practices that the Center hopes will move the profession from talking about DEI to taking action and achieving measurable results.
For those seeking to establish a successful DEI strategy at their organization, the paper outlines these seven initial recommended steps:
Tailor to your firm
Develop a mission and vision statement
Ensure leadership commitment
Develop a strategy
Establish and track metrics
Engage employees
Evaluate
The paper also presents scalable starting tactics that any firm can take to build out the infrastructure to launch and support a DEI journey, as well as tactical best practices for firms that are further along in their DEI journeys.
Read on for key takeaways from each of the case studies.
---
Northwestern Mutual: Charting a United Path Forward Across a Large Organization
As a large firm with multiple offices located in different areas around the country, Northwestern Mutual found that there must be a team focused specifically on DEI in every office. The DEI vision can be the same at the corporate and field levels, but there will be nuances between the strategies used to implement it that must be considered.
In order to achieve unified conviction across a system like Northwestern Mutual's, they found that listening and learning are critical first steps. Across the company, more than 1,000 leaders have completed immersion experiences like its D&I immersion lab, to help them develop their D&I skills and become better leaders and allies.
Building a culture of inclusivity cannot only be from the top-down, which is why Northwestern Mutual fostered co-creation and local ownership of D&I strategies among its field offices. Building community through employee resource groups (ERGs), study groups, or special events like diversity summits, creates unique opportunities to drive conviction and build confidence. They are also a clear demonstration of an organization's commitment to creating a culture of inclusion.
---
HoyleCohen Wealth Management: Looking to Data to Track Progress and Identify Areas of Focus
This year's national racial reckoning led HoyleCohen, a smaller RIA founded in 2001 that has about 40 employees, to formalize its DEI initiative by creating a D&I Charter and launching a six-person D&I committee.
As a first step, the Committee commissioned a study of the firm's employee hiring, advancement and pay and benchmarked it against the industry. The results provided a path forward for how the firm can focus its efforts.
In its analysis, HoyleCohen found that 60% of their staff, 50% of their management team and 47% of their advisors are women — the result of a conscious effort the firm made in 2007 to close the gender gap. The firm also found that its progress with people of color is notable, with much room for continued growth and improvement. Currently, people of color make up 26% of the firm, up from 10% in 2007 and 16% in 2015. Much of the progress is due to recently implemented hiring practices. In fact, 41% of the current staff members hired in the past five years are people of color. Additionally, four of 15 advisors and planners are people of color. This is higher than the industry's average, but lower than the demographic mix of the communities where they are located.
Meaningful progress requires intention with purpose. HoyleCohen has always thought of themselves as relatively unbiased and accepting, but they realized that they looked a lot like their industry in 2007 — white and male. A decade later, they managed to close the gender gap and the release of their diversity statistics gives the firm's D&I committee a starting point to close the racial gap.
---
Merrill Lynch Wealth Management: Increasing the Representation and Success of Diverse Talent is a Moral and Commercial Imperative
Over the summer, Merrill Lynch made the landmark decision to publicly release its diversity statistics, setting the tone to create more transparency and accountability in the financial services industry. Over the last five years, the firm has grown its advisor ranks nearly 10%, with much of the acceleration coming in the form of increased representation of women and people of color:
21% of Merrill Lynch advisors are women (increase of 17% over five years)
23% of Merrill Lynch advisors are people of color (increase of 49% over five years)
MLWM has made meaningful progress over the last several years by holding all levels of leadership accountable for change. Andy Sieg, president of MLWM, shared that one of the first actions his team took was to build diversity into leadership goals, alongside more traditional metrics such as household acquisition and flows. In 2017, MLWM established goals aimed at increasing diverse representation at every level of the organization, including among their leadership and financial advisors.
In addition, over the last several years MLWM has created and implemented several advisory councils and events to help ensure the right strategy, programs and processes are in place to further support and sustain the growth and success of diverse talent.
The growth of diverse advisors occurred in all areas of the firm's advisor population — including experienced advisors, trainees, and Financial Solutions Advisors. Merrill Lynch has seen a lot of this growth among younger advisors coming into and graduating from their financial advisor development program – which is designed to develop the critical skills and knowledge necessary for building a successful wealth management business – as well as through early career advisors hired in Community Markets and into its Accelerated Growth Program. In fact, Merrill Lynch currently has the most diverse class of advisors in its development program in its history, which is nearly 30% women and more than one-third people of color.
---
Wetherby Asset Management: Multi-pronged Strategy Guides DEI Program
In 2018, Wetherby laid out a DEI initiative rooted in four critical areas:
Increase leadership engagement of senior and mid-level management. Leaders play an integral role in influencing and shaping an organization's culture. To effectively advance DEI efforts, leaders are expected to be advocates in communicating the DEI commitment to the firm. Leaders who embrace the DEI strategy will send a strong signal to the employees that it is beneficial to embrace change.
Expand and strengthen recruitment pipelines for candidates to join Wetherby's workforce. Today's population is becoming increasingly diverse, and Wetherby wants its employee base to be reflective of society at large. They recognize that there are several systemic barriers within the financial services industry that prevent full participation from historically underrepresented groups. As a result, they understand the need to be proactive in identifying and implementing strategies that reduce biases and promote a diverse pool of applicants through all stages of the hiring process.
Improve the retention and professional development of all Wetherby employees. While recruitment is often the focus of diversity initiatives, it is also important to examine retention and advancement data within an organization. Are certain groups being promoted at different rates? Are there commonalities among those who are leaving the company? The answers to these questions help assess the inclusivity of an organization and its culture.
Build and develop external relationships of support. With DEI efforts gaining traction with organizations across a variety of industries, Wetherby can use its influence and share best practices with others to help accelerate and sustain change.
---
Fidelity Investments: A Philosophy Rooted in Process, Grassroots, Data and Accountability
Fidelity approaches DEI with a philosophy grounded in three pillars:
A Process, Not Programs
Layered In, Not Layered On Top
Accountability for All
Diversity and inclusion are not boxes to check. Fidelity makes an impact by focusing on "Simple Starts" for business processes and operations. Simple Starts are small behavioral changes that can help create a more diverse and inclusive environment in the workplace. This approach doesn't require sweeping policy change, but instead taps into the individual power and influence that every employee has. Simple Starts is about embracing that everyone has the power to effect change, regardless of their position. Fidelity measures the cumulative effects of Simple Starts by tracking ERG membership totals, career coaching engagements, artificial intelligence technology utilization and employee engagement surveys.
Fidelity is embedding inclusive practices into all levels of its decision-making to create and sustain long-term momentum. These practices range from ensuring diversity on interview panels to reorganizing talent reviews to discuss historically underrepresented people first.
Leaders must commit to new behaviors that will help the entire organization to build a workforce that is diverse and inclusive. Fidelity encourages its leaders to get involved with Fidelity's ERGs and make adjustments to their language and educate others as needed (e.g., using Black vs. African American, Hispanic vs. Latinx).
---
Charles Schwab & Co., Inc: Creating a Playbook for RIAs to Build their Own DEI Programs
In addition to Schwab's efforts to increase DEI internally, this case study focuses on Schwab Advisor Services' work within the RIA industry. In 2014, Schwab launched the RIA Talent Advantage program to help create a culture of inclusivity at RIA firms to support their hiring and retention strategies.
Schwab Advisor Services eventually codified this effort into a playbook designed to help advisors evaluate their recruiting needs and take the first steps toward beginning their search for the ideal candidates. It drills down on the importance of planning and foresight in crafting effective recruitment and retention strategies. The playbook also provides the business case for thinking beyond traditional candidate profiles and considering a range of diverse talent — gender, age, and ethnic diversity — as well as talent from outside the financial services industry. Recruiting is an ongoing process of looking for the best people with the skills and talent required to implement a firm's business strategy. The playbook helps RIAs understand that investing time in developing a talent management plan and executing it in a thoughtful manner will ensure the growth and longevity of the firm.
Tactics to help attract diverse talent to RIA firms include leveraging marketing efforts to communicate the firm's culture, posting inclusive job descriptions, forming a diverse recruiting/interviewing team, and reaching out to the diverse communities the firm is trying to recruit.
Read the Report
To read the full case studies, download your copy of Diversity in Action: How to Sustain the Financial Planning Profession.