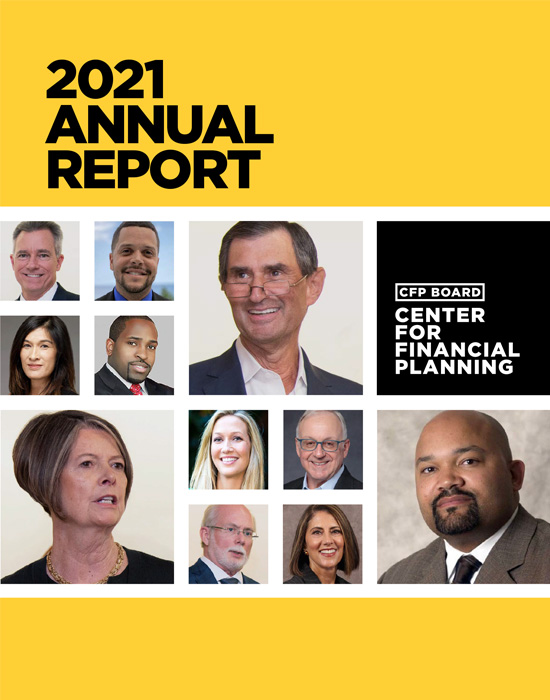 Last year was a record-breaking one for the CFP Board Center for Financial Planning and the financial planning profession. We welcomed the most diverse class of CFP® professionals to date, presented the highest number of Center-administered scholarships yet and set a new record for single-year fundraising totals. These are just a few of the exciting milestones achieved in 2021, as we continued to make meaningful progress in building a more diverse and sustainable financial planning workforce.
Our 2021 Annual Report provides a detailed account of this progress and the various initiatives and partnerships undertaken by the Center in each of our three priority areas:
Talent Pipeline: Cultivating a next-generation workforce that can meet the growing demand for personal financial advice.
Diversity and Inclusion: Developing a workforce that better reflects the shifting demographics of wealth and communities in our country.
Knowledge for Practice: Elevating the financial planning discipline while building a research-based body of knowledge that supports outstanding client service.
The Annual Report also recognizes the generous contributions received by the Center from thousands of corporate sponsors, individual donors and volunteers who have dedicated their time, expertise and resources to advancing the financial planning profession. The Center's work is truly a collective effort to overcome our shared challenges and achieve a future where every American has access to competent and ethical financial advice.