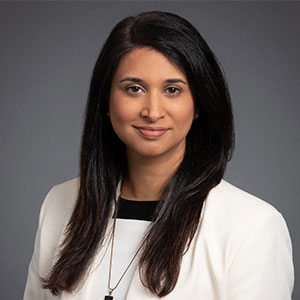 Board of Directors
Aneri Jambusaria, CFP®
As executive vice president of Strategy, New Ventures & Analytics for LPL Financial, Aneri Jambusaria is responsible for shaping the firm's strategic plans at the enterprise level, propelling that vision through the planning stages into execution, and turning data and insights into action and data-driven experiences. Her role, which focuses on developing new approaches to drive the firm's growth agenda, accelerating key strategic efforts, and creating sustainable, stand-alone businesses for LPL, relies heavily on her strong leadership qualities and experience as a strategist.
Aneri honed her strategic planning skills in financial services at Fidelity Investments, where she served as head of the planning office for Enterprise Strategy and Planning before joining LPL in April 2020. In that role, she helped shape strategy for each of Fidelity's business lines while gaining a strong understanding of wealth management and the products, solutions, and technologies that serve retail investors. Before joining Fidelity Investments, she worked as a senior consultant for Deloitte.
Aneri earned her MBA from Northwestern University's Kellogg School of Management, and her bachelor's degree in economics from The Wharton School of the University of Pennsylvania.