Registered Programs
Become a CFP Board Registered Program
CFP Board Registered Programs are financial planning programs at regionally-accredited colleges and universities that meet specific criteria for fulfilling the coursework requirement for CFP® certification. Completion of the coursework requirement through a registered program qualifies candidates to sit for the CFP® exam.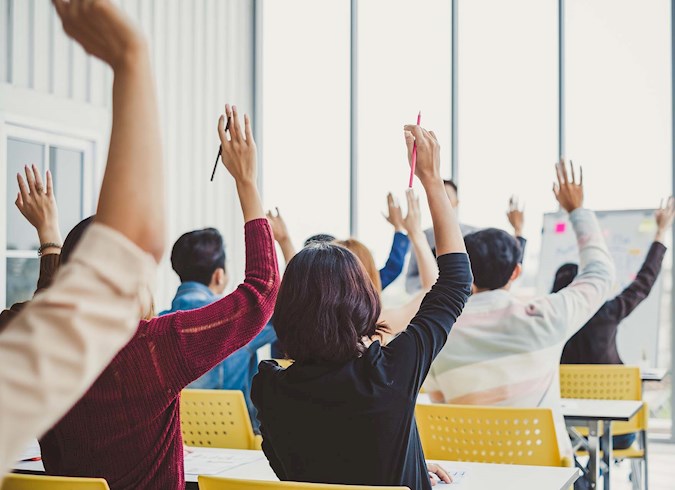 Become a registered program
steps for applying
There are many factors to consider when registering your financial planning program with CFP Board. The following steps will help guide you through the process and direct you to resources that will answer many of your questions. If you want to become a CFP Board Registered Program, here is where you should start:
Review the Program Registration Criteria, Principal Knowledge Topics, and Learning Objectives
Compare your current or proposed courses to the above three items and see what areas may need to be developed or improved upon
Determine your timeline for registering and offering your program by reviewing the Registered Program Reporting Schedule and Fees and selecting your preferred reporting cohort
Contact registeredprograms@cfpboard.org to schedule an initial call with Registered Program staff
Fill out and return the Registered Program Initial Registration Form (provided directly by Registered Program staff) to gain access to the Registered Program Portal and online application
Submit your online application no later than the reporting deadline for your selected reporting cohort
Address any application review comments left by CFP Board in the portal
Once your program has been approved for registration with CFP Board, you will receive an email containing your registration approval letter and template news release to help you announce your new CFP Board Registered Program!
Helpful Resources
Thinking of becoming a CFP Board Registered Program? The resources below are provided to help you along the way. Ready to get started? Contact us at registeredprograms@cfpboard.org.
Capstone Course
Understanding the capstone course, a vital learning opportunity offered by a registered program.
The purpose of the Capstone course is for financial planning students to demonstrate the ability to integrate and apply their knowledge of financial planning topics by creating and presenting a comprehensive financial plan. The Capstone requirement is recognition of the importance for registered programs to prepare students with technical financial planning knowledge and the skills to integrate, apply and communicate this knowledge to their clients.
Through the Capstone course, future CFP® professionals will prove their ability to apply the financial planning process to real-life situations, as well as the ability to communicate their planning recommendations to a client.
The Capstone course is competency-based, which means that instruction and experiences consist of a body of related skills and knowledge affecting a significant portion of one's performance in a given profession. Using competency-based learning objectives, learner achievement can be quantified against universally accepted performance standards. This form of learner assessment provides a detailed summary of learner effectiveness relative to the role of the personal financial planner, while also informing subsequent education and experiences relative to this course.
Assessment
Toggle Open
Registered programs should use rubrics as a primary avenue of learner assessment in the Capstone course. However, CFP Board encourages faculty in registered programs to develop their own assessment rubrics that represent what they believe to be the primary components of a particular course or unit of study. These rubrics should accurately assess all aspects of the content and experiences associated with the specified learning objectives. CFP Board will require submission of all Capstone course syllabi and assessment rubrics during the program's triennial renewal. The purpose of this ongoing evaluation is to ensure that all registered program students demonstrate the same minimum competency level relative to the Capstone course learning objectives.
Learning Experiences
Toggle Open
In developing curriculum and instruction relative to the Capstone course, registered programs may utilize a variety of educational experiences in order to meet the specified learning objectives required by CFP Board (C.3, Program Registration Criteria). These experiences within the Capstone course may include, but are not limited to, case studies, practicum experiences, presentation formats, software and internships. The rationale for devising criteria focused exclusively upon learning objectives is to give registered programs the opportunity to use their own creativity in devising learning experiences that they believe are best suited for their students, while still meeting the CFP Board required learner achievement benchmarks relative to the financial plan development course.
Learning Objectives
Toggle Open
Upon completion of this course, the student will be able to:
Demonstrate a comprehensive understanding of the content found within the financial planning curriculum and effectively apply and integrate this information in the formulation of a financial plan.
Effectively communicate the financial plan, both orally and in writing, including information based on research, peer, colleague or simulated client interaction and/or results emanating from synthesis of material.
Analyze personal financial situations that includes both qualitative and quantitative information, evaluating clients' objectives, needs, and values to develop an appropriate strategy within the financial plan.
Demonstrate logic and reasoning to identify the strengths and weaknesses of various approaches to a specific problem.
Evaluate the impact of economic, political, and regulatory issues with regard to the financial plan.
Apply the CFP Board Code of Ethics and Standards of Conduct to the financial planning process.
Teach the Next Generation of Financial Planners
Partner with us to create a pipeline of ethical, competent financial planners. By becoming a CFP Board Registered Program, you're helping to educate the next generation of CFP® professionals, who put their clients' interests first when offering financial planning advice.