CFP Board Survey Reveals Cost of Living Is a Worry for 9 in 10 Americans Polled
A new survey of American consumers conducted by Certified Financial Planner Board of Standards, Inc. (CFP Board) shows that 9 in 10 Americans are concerned about the current cost of living in the United States.
The CFP Board Consumer Sentiment Survey — Cost of Living found that, in today's economic environment, 63% of Americans are concerned about purchasing necessities, such as food and clothing, and 55% are concerned about paying their rent or mortgage. Add Americans' worries about the cost of living (89%) as well as inflation and price increases (87%), and it is no surprise that they are buying items on sale (72%), buying cheaper brands (65%), cooking at home (64%) or buying fewer products (63%).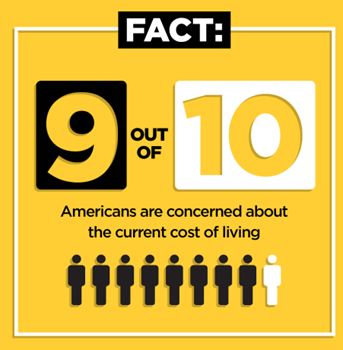 "These past several years have not been easy for Americans," said CFP Board CEO Kevin R. Keller, CAE. "From the pandemic to the latest banking news, uncertainty has been prevalent. This uneasiness increases the need for competent and ethical financial advice. CFP® professionals are uniquely positioned to meet this demand and help American consumers navigate uncertainty while prioritizing their short- and long-term financial goals."
While there are similarities between various age groups, there are also stark differences. For example, consumers 45 and older are more concerned than their younger counterparts about the cost of living (92% vs. 85%) and inflation or price increases (94% vs. 80%). These older consumers are also more likely to buy items on sale (74% vs. 71%) and cook at home (65% vs. 63%).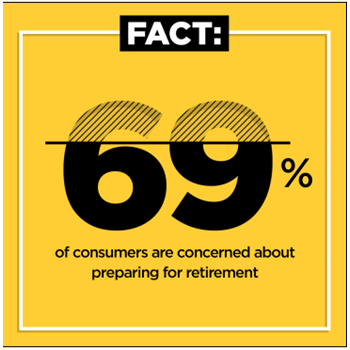 Additional findings include the following:
The ability to save money is a concern for everyone (82%). This concern increases for those 45 and older (86% vs. 78%), perhaps because of the shorter time period they have to save. This is also true for current savings or emergency funds; 75% of those 45 and over are concerned compared to 68% of those under 45.
With 69% of consumers concerned about preparing for retirement, one-third (34%) have saved more for retirement this past year. Despite the increase in savings, consumers concerned about retirement preparation may benefit from consulting a CFP® professional. Over the past year, 27% diversified their portfolios, 21% pushed back retirement and 16% (1 in 6) purchased long-term care insurance.
Debt remains a major challenge for Americans. Americans are most concerned about credit card debt (96%) and medical debt (78%). Amidst the student loan crisis, only 23% are concerned about student debt, with that number increasing to 40% for consumers under 45.
Younger generations are also more likely to make decisions that could impact them negatively in the long term. Investors under 45 were more likely to delay credit card payments (29% vs. 17%) and delay loan payments (25% vs. 16%). However, both generations were likely to withdraw money from a retirement account (24% of those under 45, 23% of those 45 and older). Those actions could have negative consequences. While younger consumers could benefit from financial advice to avoid these types of actions, the survey shows that they were proactive in establishing or adding to an emergency savings account (49% vs. 42%) and invested in the stock market to take advantage of potential growth (37% vs. 31%).
More than half of American consumers (53%) currently work or have worked with a financial planner. Young adults (38%), however, are more likely to seek the counsel of a financial planner in the future than older adults (22%).
Consumers can read more about financial planning and how to find a CFP® professional at CFP Board's consumer-directed website LetsMakeAPlan.org.
METHODOLOGY
This survey was conducted on February 28, 2023, among a sample of 944 adults who completed an online questionnaire. Data was weighted to approximate a target sample of adults based on age, gender and region. Results from the survey have a margin of error of plus or minus 3.3 percentage points.
SURVEY DOWNLOADS
about cfp board
CFP Board is the professional body for personal financial planners in the U.S. CFP Board consists of two affiliated organizations focused on advancing the financial planning profession for the public's benefit. CFP Board of Standards sets and upholds standards for financial planning and administers the prestigious CERTIFIED FINANCIAL PLANNERTM certification — widely recognized by the public, advisors and firms as the standard for financial planners — so that the public has access to the benefits of competent and ethical financial planning. CFP® certification is held by more than 95,000 people in the U.S. CFP Board Center for Financial Planning addresses diversity and workforce development challenges and conducts and publishes research that adds to the financial planning profession's body of knowledge.
contact
Joseph Feese
Director of Public Relations
202-379-2305
media@cfpboard.org
Twitter: @CFPBoard