Latest Certificant Connections Podcast: Conversation with Susan John, CFP®, 2019 Chair of CFP Board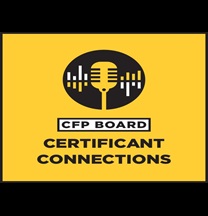 The latest episode of CFP Board's Certificant Connections Podcast series features guest Susan John, CFP®, 2019 Chair of CFP Board. This episode is about big-picture issues that CFP Board is looking at, including client psychology, CFP Board's wide variety of programs, plans for the future and the upcoming Board of Directors meeting.
---
Certificant Connections is a podcast powered by CFP Board, the professional standards-setting body for more than 84,000 CFP® professionals nationwide.
In each episode, CFP Board discusses the latest news in the financial planning profession, takes a deep dive into key topics, and answers your questions. Listen to the podcast on your favorite app from the links above, or
download the podcast library
.
Learn More About The Certificant Connections Podcast