New Workforce Development Guide from CFP Board Center for Financial Planning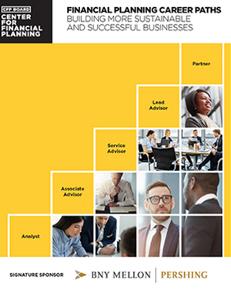 The CFP Board Center for Financial Planning has released Financial Planning Career Paths: Building More Sustainable and Successful Businesses, a new guide to help firms in our profession with financial planner recruitment, onboarding, training, career development and retention.
The comprehensive workforce development guide highlights the importance of clear and transparent career advancement to attract and retain the next generation of financial planners. It helps firms structure and effectively communicate career path opportunities by examining five rungs of the financial planner career ladder:
analyst,
associate advisor,
service advisor,
lead advisor and
partner.
For each of the rungs, the guide elaborates on the requisite skills, experience and responsibilities necessary to achieve it. It also provides a framework for compensation and organizational advancement so that professionals can manage their expectations and be well rewarded for their efforts.
This guide is one of the Center's Workforce Development initiatives aimed at arming firms with tools to attract, onboard and train the next generation of financial planners. It was inspired and informed by the Center's Workforce Development Advisory Group under the leadership of Mark Tibergien, CEO of Advisor Solutions for BNY Mellon|Pershing, a nationally recognized expert in the area of workforce development in financial services. The group is composed of experts on talent acquisition and retention, leaders from financial services firms, heads of CFP Board Registered Programs, and CFP® professionals advancing innovative workforce development initiatives.
The research was conducted and synthesized by The Ensemble Practice, a leading research and consulting firm in the financial services sector. Ensemble conducted interviews with leaders from thirty firms representing the different types of businesses that employ and provide careers to financial planners and advisors and also incorporated data from various research studies of compensation and career development.
We would like to thank the guide's Signature Sponsor BNY Mellon|Pershing for their generous support of the guide's development and The Ensemble Practice for making a generous in-kind contribution of services to the Center. We are also grateful to the Center's Lead Founding Sponsor TD Ameritrade Institutional, and Founding Sponsors Northwestern Mutual, Envestnet and Charles Schwab Foundation, in partnership with Schwab Advisor Services, for their leadership and support for the work of the Center.
We hope that firms will use this guide to help them build sustainable organizations and that professionals will use it as a roadmap for navigating the steps toward the development of successful financial planning careers.