2018 Election: First View Post-Election Research
2018 Election: First View Post-Election Research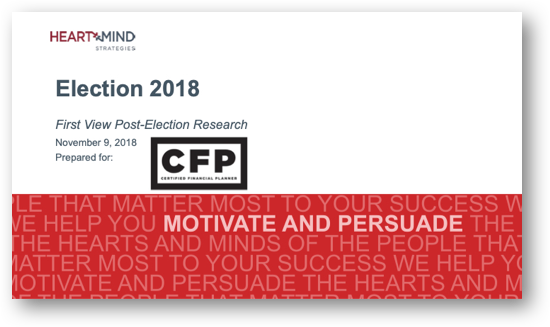 This survey was conducted by Heart + Mind Strategies for CFP Board on November 6, 2018, the day of the national general election. The election-night survey of more than 1,000 American voters showed that despite the strong economy:
More than 60% of working voters feel it is now harder to retire on time than it was five years earlier
The majority (58%) predict it will remain difficult to retire on in five years
While almost two-in-three (62%) are confident in their ability to maintain their savings as they transition to retirement, less than half (45%) think their savings will last them through retirement
However, it seems many Americans are struggling to turn this advice into a reality. Two-thirds of those surveyed have less than $100,000 in household financial assets outside of their primary residence, resulting in American voters' doubts about having enough savings to last comfortably throughout retirement.

There is a silver lining – today's political climate and the current state of affairs in our country is positively impacting Americans' perspective when it comes to managing their finances, with one-in-three saying they are now much more proactive about setting and following a financial plan.

While most of those surveyed report they are not working with an advisor now, nearly 60% are likely to work with an advisor for their retirement needs. However, they may be waiting too close to retirement to get the advice they need, with 23% waiting to work with a financial planner just three to five years in advance of their target retirement date.

When it comes to qualities Americans look for when choosing a financial advisor, the majority want someone who can provide a comprehensive plan that takes their holistic financial situation into consideration (82%) and believe their financial advisor should always work in their best interest (79%).