What is Financial Planning?
Career Opportunities
The U.S. Labor Department reports that jobs in financial planning are expected to grow faster than average, at a rate of 7% through 2028. Even better, Financial Advisor was ranked #6 in Best Business jobs by U.S. News and World Report in 2020.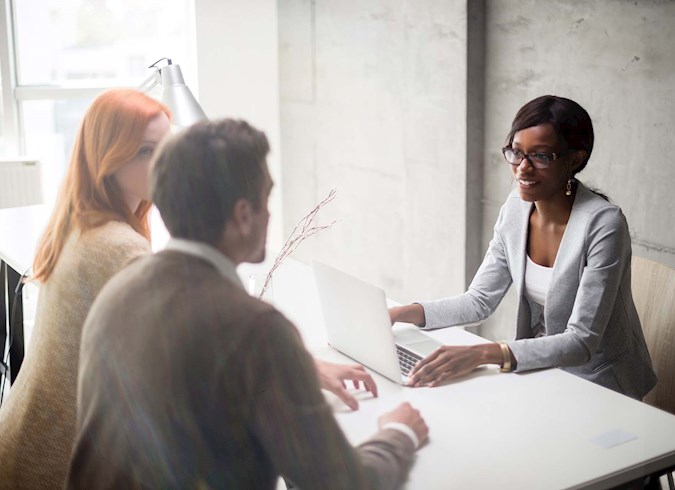 A Range of Opportunities
Financial planning is growing as a profession, and the field offers a wealth of career opportunities. Personal financial advisors guide their clients through comprehensive planning covering all aspects of their financial lives. Whether it's helping a client invest to pay for college, or build a solid investment portfolio to approach their retirement years with confidence, as a financial advisor you'll help people reach their financial goals. Financial Advisor ranks in the top ten of best business jobs, and there are also many other career routes you can pursue in the field.

Working in financial planning can mean finding a job at a large bank or credit union, a nationwide wire house, or at a small independent firm. You can develop your own niche focusing on one area of planning, move into the academic field as a professor or researcher, or even start your own company. With so many different opportunities, you can find just the right fit for yourself.
CAREER PATHS
Roles in Financial Services
Job titles and responsibilities may vary from firm to firm, but here are some typical roles in financial planning.
More info on typical positions on the financial planning career path is available in our Financial Planning Career Paths guide.

Download the Career Paths guide
Personal Financial Planner
Creates holistic financial plans to meet the unique financial goals of their clients.
Client Services Advisor
Prepares financial plans for review and implementation, participates in client meetings, and works on follow-ups for clients.
Associate Advisor
Works closely with a team of advisors to prepare financial plans, presentations, and other materials for client meetings.
Wealth Management Advisor
Develops one-on-one relationships with high-net-worth clients and helps to construct investment portfolios.
COMMON JOB ROLES
Investment Advising Roles
Job titles and responsibilities may vary from firm to firm, but here are some typical roles in investment advising.
Financial Analyst
Performs research and analysis and/or manages investment options, making recommendations to advisors.
Investment Manager
Selects and manages investments on behalf of a firm and its clients.
Portfolio manager
Manages client assets and portfolios in accordance with firm's guidelines, and contributes to research and analysis of investment opportunities and firm investment philosophy.
KEY QUESTIONS TO ASK EMPLOYERS
As you start looking at opportunities in financial planning, here are some questions you'll want to consider asking:
What kind of work will you be doing?
What's the scope of the financial planning work at the company? Does the firm have a financial planning philosophy?
What is the onboarding process for new hires and what is the career path for a financial planner?
What does a typical week look like for someone in the role you're interested in?
How does the company communicate their value to clients?
Will you be part of a team or expected to function on your own? What opportunities are available to learn from or work side-by-side with other advisors?
How is the salary structured—a base salary, commission, or combination of both?
Will you be working directly with clients, or behind the scenes? What percentage of your role involves direct work with clients? How much time will be spent developing and presenting financial plans?
What professional development opportunities will be available? Does the organization offer support while you work towards (or reimbursement for) CFP® certification?
Asking key questions is the first step in determining whether an opportunity is a good fit and if it's on the path to your career goals.

You can find more information about the financial planning field and even start applying for jobs today at the CFP Board Career Center.

Career Guide
Check out our comprehensive guide, Financial Planning Career Paths, which outlines the five rungs of the financial planner career ladder and helps you understand how to succeed at every stage.
Download the Guide