Diversity and Women's Research
Why Diversity Matters: How Workforce Diversity and Inclusion Accelerate Business Success in Financial Services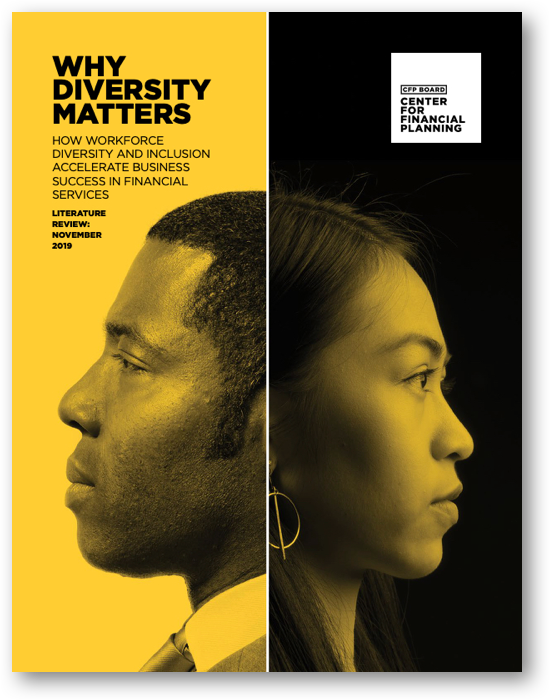 Why Diversity Matters: How Workforce Diversity and Inclusion Accelerate Business Success in Financial Services, builds upon the thought leadership role of the CFP Board Center for Financial Planning by focusing on the WHY — why diversity, including race, ethnicity, gender and sexual preference, is so crucial to the sustainability of the financial planning profession.
It is a compilation of research studies, most conducted as recently as the past five years, assembled by Fondulas Strategic Research with input from the Raben Group and the Center's Diversity Advisory Group, that demonstrates that greater diversity leads to stronger sales revenue, customer growth, greater market share and higher profit levels. The literature review goes deeper and identifies four data-supported explanations for how diversity leads to stronger overall financial performance.
This publication serves two purposes:
It is a compelling compilation of data and evidence for those who still need to be convinced that diversity matters to business success.
It provides a tool for diversity and inclusion advocates to use with business leaders and others who have the authority to act on the conclusions and recommendations from these studies.

Numerical diversity is necessary but not sufficient alone. For workforce diversity to benefit an organization, employees also need to feel included — that they work in a "speak-up" culture where their differences are seen as an asset.