Diversity and Women's Research
Racial Diversity in Financial Planning: Where We Are and Where We Must Go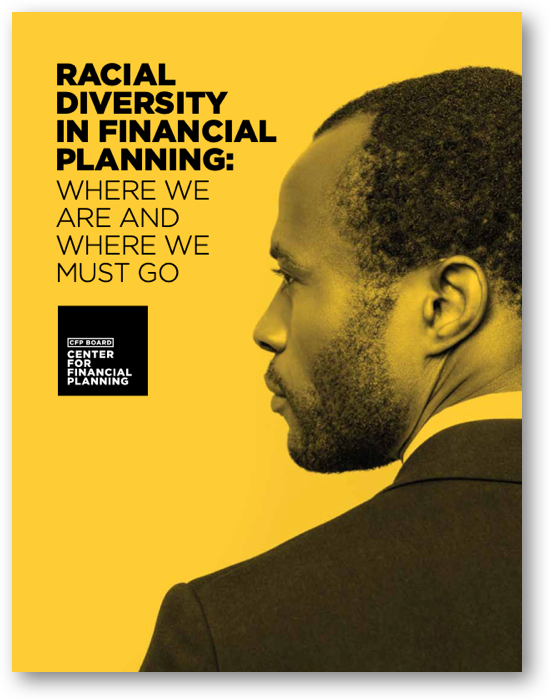 In 2017, the CFP Board Center for Financial Planning commissioned a comprehensive research study to identify the barriers to racial and ethnic diversity in the financial planning profession. Findings from that research led to the 2018 release of Racial Diversity in Financial Planning: Where We Are and Where We Must Go, a thought leadership paper that outlines actionable, research-based solutions for industry stakeholders to create a more inclusive profession.
Key findings of the diversity research can be summarized by the following overarching observations:
Due to economic inequality and cultural norms, African Americans and Latinx lack awareness of financial planning and the CFP® certification process.
Firms' hiring and onboarding practices, including the focus on immediate return, commission structure, like-to-like mindset and subjective hiring criteria, are seen as a major barrier to diversity and inclusion throughout the financial services industry and financial planning profession.
Clients' bias in choosing a financial planner also functions as a barrier to racial diversity in the industry and the profession.
Various constituents differ dramatically on what they think the root causes are of underrepresentation of African American and Latinx financial planners.
Despite the fact that African American and Latinx CFP® professionals and prospects are more likely to distrust the profession, African American and Latinx CFP® professionals say they are as highly satisfied in their careers as other CFP® professionals and are more likely to recommend the profession than other CFP® professionals.
Most segments agree on initiatives for boosting diversity, as well as potential messaging strategies to communicate the importance of diversity to firms and attract more African American and Latinx prospects to the profession.
Actions anyone can take to help create a more inclusive profession include:
The financial planning profession must expand and diversify the ranks of financial planning professionals who can meet the needs of increasingly diverse consumers.
Become a mentor and/or a reverse mentor.
Actively and continuously learn about allyship and practice it in meetings, throughout hiring and/or promotion processes, and in daily interactions.
Advocate for and recommend people of color within your firm or with others for advancement and opportunities.
Give the gift of education by contributing to Center scholarship programs for underrepresented populations in financial planning.
The paper was developed in consultation with the Center's Diversity Advisory Group composed of experts in diversity and inclusion, executives in financial services firms, program directors from colleges and universities, representatives from organizations serving people of color, and CFP® professionals.
This study was funded by generous contributions from the Charles Schwab Foundation and Capital One, as well as TD Ameritrade Institutional, the Center's Lead Founding Sponsor, and Northwestern Mutual, the Center's Founding Sponsor.