Diversity and Women's Research
Diversity in Action: How to Sustain the Financial Planning Profession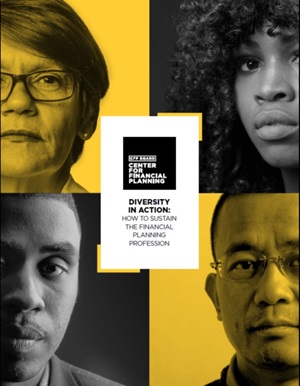 Diversity in Action: How to Sustain the Financial Planning Profession explores successful, scalable and sustainable Diversity, Equity & Inclusion (DEI) initiatives across financial advisory firms of different sizes and models. The paper consists of a series of case studies compiled from a select number of firms that highlight best practices and different tactics that have helped firms pursue a more diverse and inclusive workforce.

Diversity in Action builds on the Center's previous research and thought leadership in this area, which examined the barriers to racial and ethnic diversity in the profession and the business case for greater workforce diversity.
The paper serves two purposes:
It showcases the DEI work being done across the financial planning profession.

It delivers scalable insights for readers to be able to replicate that work themselves.
The Center acknowledges the firms featured in this paper—Northwestern Mutual, HoyleCohen Wealth Management, Merrill Lynch Wealth Management, Wetherby Asset Management, Fidelity Investments Inc., and Charles Schwab—and thanks them for sharing their experiences and advice.
More than anything, the case studies demonstrate the importance of co-creation in every diversity, equity and inclusion (DEI) journey, strategy, and tactic.