What Students and Career Changers Should Know About a Career in Financial Planning
The CFP Board Center for Financial Planning's latest career guide examines the diversity of career tracks and jobs available in the financial planning profession — and shares steps that new entrants can take to find the right opportunity.
News headlines consistently cover today's "war for talent." Companies are competing to attract and retain talented employees, while workers are benefitting as companies offer more robust salaries, benefit packages and growth opportunities.
For Americans considering their next career move during this time, a financial planning career might be the right choice. The retirement of an aging financial planner workforce and increased consumer demand for competent and ethical financial planning advice create an abundance of career opportunities for the next generation of financial planners.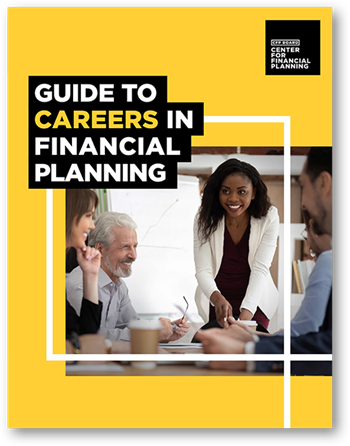 In support of its mission to create a more diverse and sustainable financial planning profession, the CFP Board Center for Financial Planning, recently published the Guide to Careers in Financial Planning.
Informed by interviews with 77 company executives, talent recruiters and financial planners across 42 companies, the Guide provides students, recent graduates and career changers with guidance on beginning and sustaining a successful career in financial planning.
The Guide begins with an introduction to what financial planners do and the financial planning process (Chapter One), followed by details on the typical progression of responsibilities in the profession that a new entrant can anticipate (Chapter Two). Chapter Three explores the variety of companies that hire financial planners, before Chapter Four concludes with guidance on how to get started in a financial planning career—whether it be a first career or a career change.
What Makes Financial Planning an Attractive Career?
Readers may already think that it sounds rewarding to work with individuals and families to help them identify and achieve life goals but wonder what exactly financial planners do. The Guide begins with education on the collaborative financial planning process and the guidance that financial planners provide their clients.
Financial planners work with individuals and families to make sound financial and investment decisions to help maximize their clients' chances of achieving critical life goals based on their priorities and fundamental values.
The Guide explores some of the benefits of a career as a financial planner, including:
A sense of personal fulfillment from helping others.
Financial rewards.
Mental stimulation.
An ability to achieve a desirable work-life balance.
Career flexibility.
Now is an especially optimal time to consider becoming a financial planner. The combination of the aging baby boomer generation, increasing life spans and the shift away from pensions toward individual retirement plans means more Americans are looking for competent, ethical financial planning advice. Additionally, more women and people of color are accumulating wealth, creating opportunities for financial planners to serve more diverse clientele.
This means that there are ample career opportunities for individuals, especially those from diverse backgrounds, who decide to become financial planners.
Careers in Financial Planning
For those interested in a financial planning career, there is a variety of companies and career tracks that enable you to become a financial planner.
While companies formulate a distinct financial planning career path to fit their unique strategy and culture, research shows that there are defined career stages that most companies share:
Analysts gather and maintain client data, assist with client onboarding and answer routine questions from clients.
Associate Advisors draft financial plans, create custom analyses of financial decisions for clients and perform research on investments.
Senior Advisors implement those plans under senior supervision and take more of a leading role in answering client questions.
Lead Advisor/Managing Directors manage client relationships, including presenting the financial plans to clients and overseeing the implementation of the plans.
Principal/Partners manage premier client relationships or particularly complex cases.
Most entry-level financial planners can anticipate receiving training and supervision from experienced professionals, many of whom hold their CFP® certification. Because CFP® certification is widely considered the standard of excellence in financial planning, many companies support professionals who wish to pursue CFP® certification by financing the required education coursework and offering time off to study for the CFP® exam. Entry-level planners can expect to get started by playing a supporting role in a practice and then, later, work toward leading or owning a practice.
Companies that Hire Financial Planners
In addition to an understanding of the typical financial planning career track, aspiring financial planners will also benefit from an understanding of the types of companies that hire financial planners. Financial services industry channels are often used to describe the types of companies that employ financial planners, and the Guide offers details on several main channels, including:
Wirehouse
National & Regional Broker-Dealer
Independent Broker-Dealer (IBD)
Hybrid RIA
Independent RIA
Insurance Broker-Dealers
Retail Banks
Among the industry channels, opportunities can be found at small, mid-sized and large companies. Some national companies with multiple local branches may allow those local branches to make significant management decisions, while others may prefer all offices share a uniform culture and employment practices.
Compensation methods for financial planners will also vary by company. Many companies hire financial planners as employees who receive salaries, incentive compensation and benefits. Other companies compensate their planners based on a percentage of the revenue they generate.
With a variety of industry channels, and a diversity of company sizes and cultures amongst those channels, candidates exploring the financial planning profession can find the right opportunity that fits their skills and interests.
How to Choose the Right Career Path
The final chapter of the Guide highlights resources, such as the CFP Board Career Center, where individuals can find financial planning internships, entry-level positions and training programs. The requirements of the CFP® certification process are also introduced. Earning the CFP® certification sets the individual apart from other financial advisors as it signals that they completed extensive training and experience requirements and committed to high ethical standards.
Students, recent graduates, career changers and other financial services professionals—as well as educational institutions interested in preparing individuals for the financial planning profession—are encouraged to review the Guide to learn about the wealth of opportunities available in the field.
Download the Guide to Careers in Financial Planning
Browse and download the Guide to Careers in Financial Planning to help you get started on your career path in the financial planning profession.