Financial Planning Software Gains Momentum in Era of Remote Work
Financial planning software has gained more traction with CFP® professionals across the advice landscape. Consider some of the most important things to look for when evaluating this software.
Over the past decade, financial planning software has gained more traction with CFP® professionals across the advice landscape. The vital role of technology in the work of any financial planner has only become more pronounced in the era of remote work accelerated by the COVID-19 pandemic.
Nearly 80% of advisors surveyed said they are using one or more financial planning software programs.
The 2021 iteration of the annual Advisor Software survey conducted by Joel Bruckenstein and Bob Veres found that nearly 80% of advisors surveyed said they are using one or more financial planning software programs. That reflects an increase of nearly 14 percentage points from the previous year. The survey, which was conducted between September and December 2020 with more than 5,000 advisors from the Inside Information, T3 and Advisor Perspective communities, as well as the AICPA PFP Section and the XY Planning Network, also found that 26% of advisors cited financial planning software as the software they could least likely do without — second only to customer relationship management software (CRM). In line with these findings, CFP Board's own Digital Advice Working Group found similar conclusions in prior years that there is accelerated widespread adoption of digital tools by advisors and firms, as outlined in its 2018 report on "The Digital Financial Advice Ecosystem."
However, with so much growing interest in the financial planning software space, competition is intense. New entrants arrive frequently, and mergers and acquisitions by established players constantly change the landscape. This has created a fairly fragmented space, leaving financial planners and their firms with a vast array of software options — all with varying features, strengths and weaknesses, and use cases.
In their report, Bruckenstein and Veres identified more than 20 different financial planning software tools used by a meaningful number of advisors, along with 10 additional programs that advisors mentioned using in their responses.
A vast majority of survey participants reported using one of two products — Envestnet's MoneyGuidePro and Fidelity's eMoney — which together make up 75% of the market share for survey participants. They also represent the top two programs that survey respondents considered switching to, which means they'll likely remain on top for quite some time. However, one challenger — RightCapital — nearly doubled its market share from 2020 to 2021, solidifying its place as the third most frequently reported program.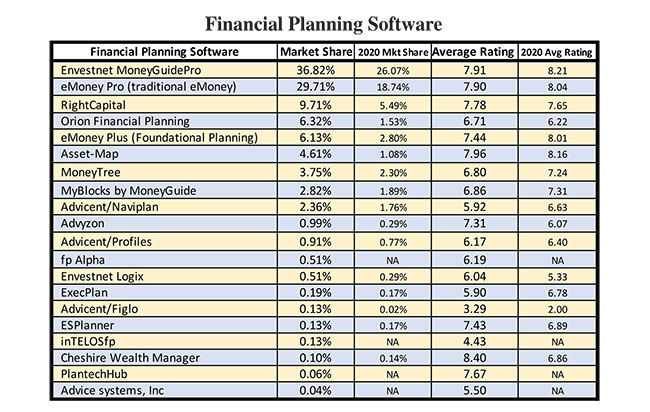 "Financial Planning Software" table is from 2021 T3/Inside Information Advisor Software Survey, Joel Bruckenstein and Bob Veres.
Regardless of the clear market leaders, the breadth of competition bodes well for innovation and creates opportunities for financial planners to find software that meets their specific needs.
To assess the most important things to look for when considering a new financial planning tool, we spoke to three CFP® professionals — Marvin Reid, CFP® of Reid Financial Consulting; Erin Voisin, CFP® of EP Wealth Advisors; and Spencer Betts, CFP® of Bickling Financial Services — who respectively use MoneyGuidePro, eMoney and RightCapital as their primary tools.
Approach Financial Planning Technology with a Client-First Mindset
"Financial planning professionals often get really excited about all of the data that might be presented in a certain type of financial planning software," said Betts, whose firm employs RightCapital. "There are a lot of times when a tool may provide some more alpha that might really energize an advisor, but delivers a front-end experience that's really overwhelming for clients. Ultimately, clients demand simplicity. Most just want a one-pager that tells them whether they are on track for retirement."
When thinking through financial planning software, Betts suggests asking the following to focus your evaluation on how the program will help you interact with your clients:
Would a client understand this tool if you gave it to them to use for 30 minutes?
How easy is the tool to share remotely?
Will this tool enable your client to upload their data once, or will the client need to upload data to several other tools your firm uses?
Does the tool visually show a picture of a client's retirement plan, as opposed to a granular asset number for a particular age?
No One Size Fits All
"There are a lot of great tools out there, and the current competitive environment ensures that products will continue to be cutting edge," added Voisin. "However, the most important thing I tell advisors when they're looking at a new technology solution is that you will need to have the staff to support it."
"The most important thing I tell advisors when they're looking at a new technology solution is that you will need to have the staff to support it."
Voisin has a team of 32 people, which she says gives her the bench capacity and depth to run eMoney as their base financial planning software, along with nine to ten supplemental tools dedicated to specialties such as tax, real estate and education. Not all firms have the capacity to run this many technical tools, so many need to rely on a solution that's more all-encompassing.
"Additionally, everyone on her staff needs to know how to use their platform — from client relationship associates to paraplanners to CFP® professionals," said Voisin. "We leverage our platform at every point in our onboarding sequence, so it is essential that different members of our staff are an expert in any given area of the platform because clients will come to them specifically with questions."
Software as a Differentiator
"As the financial advice market continues to become more competitive, financial planning software can often be a differentiator for you and your firm, but if you're not using the right tool, it can be detrimental," says Voisin.
She points out that these tools often guide client conversations. If your software fails to demonstrate something to a client clearly and concisely, you might not have the right conversation with your client in the first place.
Marvin Reid echoes this sentiment. He believes that having software add-ins such as the ability to separate healthcare expenses as a financial goal is a huge differentiator in his work with clients.
"The inflation rate for healthcare costs is actually much higher than projected inflation — 5% vs. 2.5%. If you and your client don't plan for the increase in these medical expenses, you could be in a tough spot," said Reid. MoneyGuidePro allows his firm to project the cost of private insurance and estimate the cost of Medicare and out-of-pocket expenses separate from the overall financial picture.
"It's going to be a race to see which financial planning software does it the fastest and the best," concludes Voisin. CFP® professionals will need to stay on top of this space to ensure that they're using the latest and greatest technology.
Exercising Care and Judgment When Selecting Software — Duties Related to Technology in CFP Board's Code and Standards
It is important to note that the Code of Ethics and Standards of Conduct for CFP® professionals includes duties when selecting, using and recommending technology. Standard A.14 of the Code and Standards states:
a. A CFP® professional must exercise reasonable care and judgment when selecting, using, or recommending any software, digital advice tool, or other technology while providing Professional Services to a Client.
b. A CFP® professional must have a reasonable level of understanding of the assumptions and outcomes of the technology employed.
c. A CFP® professional must have a reasonable basis for believing that the technology produces reliable, objective, and appropriate outcomes.
This means that CFP® professionals under CFP Board's Code and Standards are required to exercise care and due diligence on the software that they are utilizing in client interactions. Approval of the software technology by a CFP® professional's firm is a factor that CFP Board will consider in determining the reasonableness of a CFP® professional's care when using technology. And as software providers let financial advisors "look under the hood," CFP® professionals and other advisors can understand and be comfortable about the assumptions and projections that are being used in their tool(s).
CFP® professionals and all advisors should do their due diligence when selecting financial planning software, so that what they're using will enable them to serve the needs of their clients and help them chart a course to reach their clients' financial goals.
The information provided in this article is for informational purposes only. Any reference in this article to a specific software program or digital tool does not constitute or imply an endorsement or recommendation by Certified Financial Planner Board of Standards, Inc. of the software program or digital tool, or its producer or provider. Any potential customer of a software program or digital tool referenced in this article is expected to conduct their own due diligence and assessment of the software product, digital tool, and producer or provider.