Scholar Stories
Scholarship programs administered by the CFP Board Center for Financial Planning provide a pathway into financial planning careers by helping to cover the costs of coursework required to become a CFP® professional. Here, award recipients share personal reflections on their career and what their scholarship meant to them.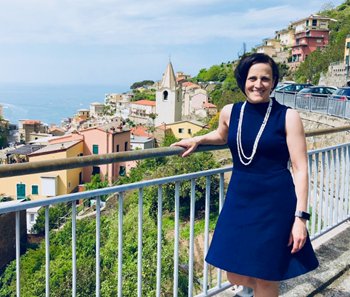 Mary Chapman, CFP®
Director of Financial Planning Services
Cummings Wealth Management Group
Mary Chapman, CFP®, is a 2017 recipient of The Deena Jo Heide-Diesslin Foundation Challenge Match Scholarship. This scholarship program supports students who belong to populations that are underrepresented in the financial planning profession—based on gender, race, ethnicity, sexual orientation and disability—and/or who have demonstrated financial need. The Center offers the scholarship through a partnership with The Deena Jo Heide-Diesslin Foundation, which was established by Deena's husband, David H. Diesslin, CFP®, to honor her memory by supporting nonprofits that empower women and minority populations through education. To date, 35 scholarships totaling more than $173,000 have been awarded.
Finding Clarity in a Career Helping Others
One of the defining moments in Mary's life came at the age of 37 when she was diagnosed with cancer. Mary was told to quit her job and live her bucket list. In the days that followed, she says she found clarity: "I knew exactly who and what was most important to me."

"I could not be more grateful to be the recipient of The Deena Jo Heide-Diesslin Foundation Challenge Match Scholarship. It was truly empowering. The scholarship enabled me to overcome obstacles and obtain the respected CFP® certification that allows me to provide the best possible service to our clients, specifically female breadwinners, to help them establish their long-term goals, assess where they are in relation to these goals, and set a course to achieve them."




Among those aspects of life that she cherishes is her work helping clients, particularly women, build a more secure financial future. Mary currently serves as director of financial planning services for Cummings Wealth Management Group. She says, "I've worked in a variety of roles, which has given me an enriched understanding of the industry and the needs of our clients."
Mary started her career in the financial services industry in 2006. She earned her CFP® certification in 2019, two years after receiving a Deena Jo Heide-Diesslin Foundation Challenge Match Scholarship from the Center. "It was truly empowering," says Mary of her scholarship award. "The scholarship enabled me to overcome obstacles and obtain the respected professional designation that allows me to continue working with our clients, specifically female breadwinners, to help them establish their long-term goals, assess where they are in relation to these goals and set a course to achieve them."
Helping women manage their financial life and goals, including navigating caregiving needs for children and aging parents as they also juggle work and other responsibilities, is rewarding for Mary. Women "are not being heard or serviced as they should be by this industry," she says.

Part of Mary's process in helping her clients is breaking down complex problems into simpler steps to reach success. Simplicity is often the answer to complexity is a lesson that Mary says her dad taught her at a young age. "I love helping people make sense out of complexity and chart a path forward," says Mary. "I spend my days focusing on how every little detail of people's lives work together and how those details are woven into a cohesive plan to get them what they want out of what they have," she adds.

Mary has been cancer free since 2018 and remains focused on health and wellness, in addition to being active in her community. She also runs a pro bono financial planning practice at SheMakesaPlan.com that focuses on providing financial advice to female breadwinners.

Mary encourages anyone looking to make a difference in others' lives to consider a career in financial planning. "As a CERTIFIED FINANCIAL PLANNER™ practitioner, I created a process that provides women the clarity and confidence that will make even the most complex situation simple so they can focus on living their best life," says Mary. "Financial planning is what I do, but empowering women to find clarity and guiding them to confidently be the best version of themselves is who I am."
Apply for a Center Scholarship