Financial Planning Teaching Seminar
In 2020, this seminar will take place August 17-19. Event and registration details will be posted when available.

The CFP Board Center for Financial Planning and the Columbia University School of Professional Studies are pleased to offer the
Financial Planning Teaching Seminar
that provides training to individuals who are interested in becoming full-time or part-time faculty in a CFP Board Registered Program.
"The speakers were very interesting, and I felt I learned a lot from them sharing their years of experience with us. It definitely jump-started a teaching career for someone with little experience in academia. The class was also an excellent networking opportunity. Highly recommended."



—

Lillian Padula-Coscia, CFP®
The experience-based program focuses on both financial planning content as well as basic instructional design, using learning objectives, student assessment, and avenues of bringing experiential learning into the classroom or online learning platform.
Participants may include:
Faculty within finance and accounting
CFP® professionals hoping to begin a full or part–time career teaching in a CFP Board Registered Program
Current faculty within all CFP Board Registered Programs
Doctoral students aspiring to begin a career preparing the next generation of CFP® professionals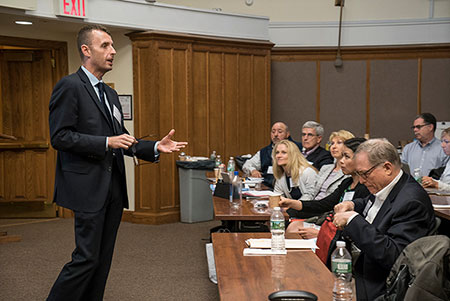 The Teaching Seminar presents current and prospective faculty with a wonderful opportunity to sharpen their teaching abilities. It also provides access to a library of teaching resources that will enhance instruction back at their colleges or universities. Completion of the Teaching Seminar is not a requirement for faculty at CFP Board Registered Programs.
One offering of the seminar will be held from August 17-19, 2020, on Columbia's Morningside Heights campus in New York City.
Graduates of the Financial Planning Teaching Seminar have the opportunity to submit their resume/CV if they are interested in being considered for a teaching position within a college or university by contacting TeachingSeminar@CFPBoard.org.
financial planning teaching seminar overview