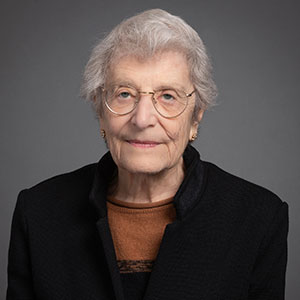 Board of Directors
Roberta Karmel
Roberta S. Karmel is Distinguished Research Professor at the Dennis J. Block Center for the Study of International Business Law at Brooklyn Law School. She was engaged in the private practice of law in New York City for over thirty years. She was a Commissioner of the Securities and Exchange Commission from 1977-80, a public director of the New York Stock Exchange, Inc. from 1983-89, and a member of the National Adjudicatory Council of the NASDR from 1998-2001.
Professor Karmel is a Trustee of the Securities and Exchange Commission Historical Society and Chair Emerita of the Board of Trustees of the Practising Law Institute. She is a member of the American Law Institute, the Economic Club of New York, the Financial Women's Association, and a Fellow of the American Bar Foundation.
Professor Karmel is the author of over 90 articles in books and legal journals and wrote a regular column on securities regulation for the New York Law Journal from 1980-2016. Her book entitled Regulation by Prosecution: The Securities and Exchange Commission vs. Corporate America was published by Simon and Schuster in 1982. Her book Life at the Center: Reflections on Fifty Years of Securities Regulation was published by PLI in 2014.